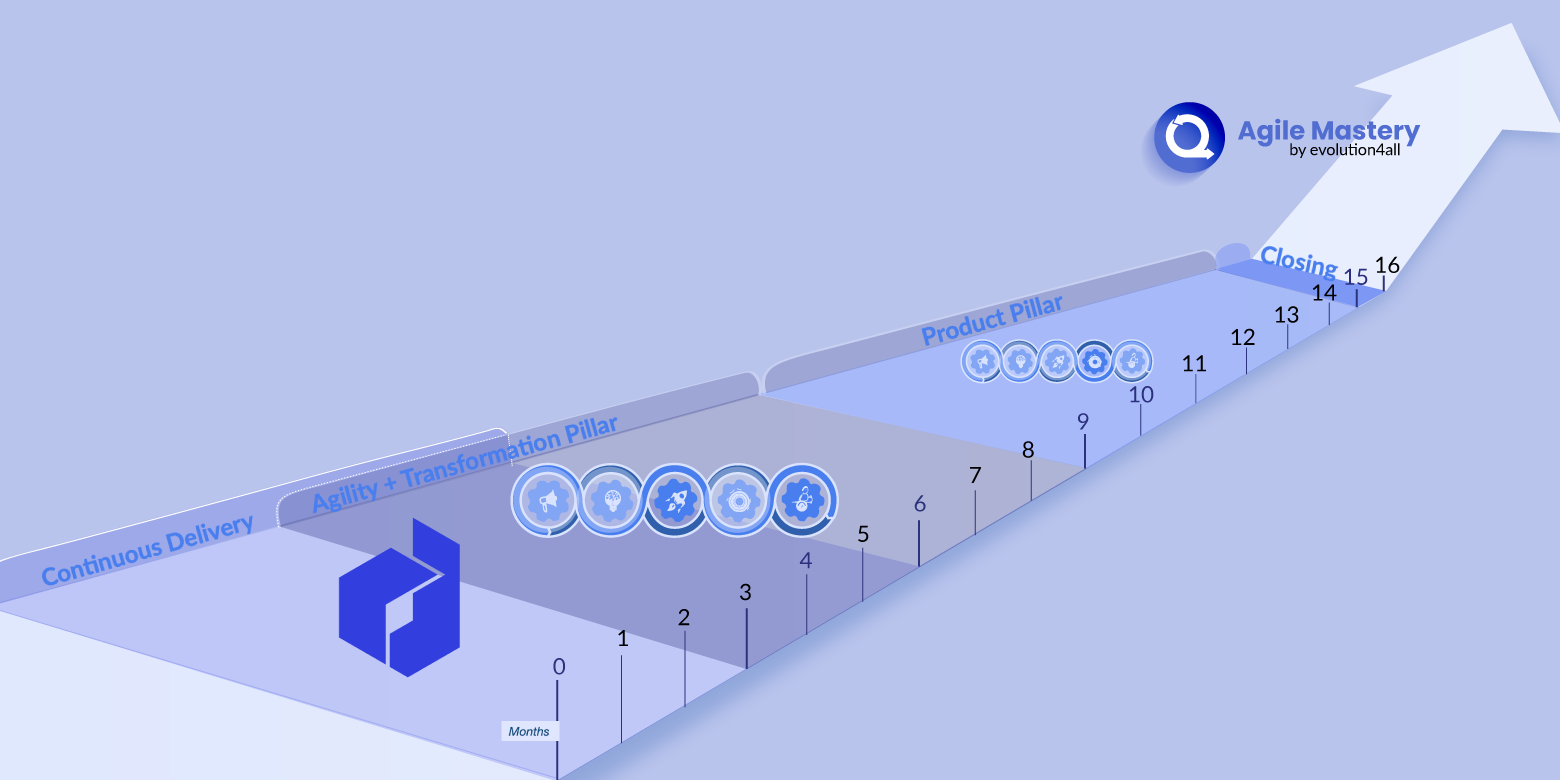 During this decade, several companies embrace the need for an Agile Transformation but most of the leaders do not know where to start. In this article, you can find a suggestion on where to start and what kind of activities you should take into consideration to run a successful Agile Transformation.
An Agile Transformation does not need to be hard, if you know where to start and what to do you will increase your chances of success as a leader. With this article, we hope to provide you with an overview of a possible Agile Transformation Roadmap that you can use, in case you are interested you can download our guide that that contains deeper insights to help you with your Agile Transformation.
Society changed and leaders need support in the way how they lead and design their digital product organizations, that is the reason why the ADAPT Methodology® was created, leaders need a simple framework to help them to design and ADAPT their organisations into Digital Product Companies.
Our Digital Transformation Framework is the subject of my latest book Adapt which outlines an iterative process based on the five pillars of my ADAPT Methodology®.
Approach: how to acquire new customers in the digital era.
Data: learning how to utilize your data to optimize your business and customer experience.
Agility: the need to build a company that can react and responds quickly to changes in the market.
Product: developing and implementing a digital product strategy.
Transformation: why and how the entire organization needs to change so that it can competitively thrive in the digital era.
Agile Software Development has been an efficient way to develop digital products during the last few years, that´s why the 3rd pillar of the ADAPT Methodology® is called Agility, but we strongly believe that in order for you to have a complete Agile Transformation Roadmap you need to think in two other parts of your organization: the product part and how to transform your entire company.

Agile Leadership & Mindset
Many people struggle to understand why adopting Agile Leadership and mindset is so hard for executive managers and leaders. The success of executives is the result of their past actions. Instead of pointing out their mistakes, we need to explain and teach today's market so they understand the need for change.
Methodologies
Agile is a very empowering process that helps companies design and build the right product. The management process is very beneficial for software companies because it helps them analyze and improve their product throughout their development. This enables companies to produce a highly valuable product so they stay competitive in the market.
Scrum Master
The Scrum Masters's role is to create stable and self-organized teams with a clear and engaging direction and to educate the organization on Agile Methodologies. A crucial role that deserves full attention in order to achieve a successful Agile Transformation.
Product Owner
For most companies switching to Agile, the PO role is a new and critical one. The PO's relationships and responsibilities are not only significant but extend beyond the local team. They also work with the rest of the Project Management team, customers, and stakeholders. In this pillar, we develop internal product owners to improve business results.
Development Team and Tech Excellency
Tech Excellence brings together technical agile disciplines from software crafting to DevOps and domain drove design with a focus on team-level practices and skills for agile software development. Agile Software Development without top-notch technical practices doesn't deliver what we hope with Agile
Strategy
Strategy is a design problem where various elements must be organized, adjusted and coordinated to solve a specific problem or challenge.
In essence, a good strategy shows how to win in the marketplace. Learn how to design a winning product strategy, how to bring it to life, and how to continuously evolve it.
Business
A winning strategy can unfold into different business ideas. Which one should you pursue? Learn to design a profitable business model by iteratively exploring, evaluating, and validating them with rapid experimentation of your business ideas.
Discovery
Now, more than ever, companies need the capability to quickly learn and validate what the market needs, create new markets, evolve products, or move into adjacent markets or product categories.
The ability to kill an idea before it's too late, the ability to change course quickly and the ability to invest wisely as you progressively reduce uncertainty. Product Discovery is the continuous process of discovering what to build. It is about ensuring that the right thing is built for the right audience in alignment with product strategy and business goals.
Go-To-Market
The go-to-market strategy aligns the organization around the activities that must be completed in order to deliver something new to your target audience. This can be a product launch, a new feature, or an expansion into a different market. It defines the approach you will take to translate functionalities into messaging that will resonate with customers.
Metrics
There is a multitude of metrics related to a product. But, which are those that allow you to take informed decisions about new features, and growth strategies and to solve product performance problems quickly? Learn to define your product metrics framework and how to use it to continuously improve and drive business growth.
Translate Strategy
Organizations that can transform their strategy into daily operational actions and measure the impact of their deliveries have a greater chance of success compared to their competitors.
Reduce Time To Market
Organizations that optimize their processes to release products rapidly have a much higher chance of standing out and beating competitors.
Continuous Improvement
It is crucial for any organization to create a continuous innovation culture among all staff members to keep pace with our dynamically changing society.
Learning Organisation
In today ́s world, an infinite number of technologies and practices being used in organizations are being used with varying levels of success. Without a proper strategy in place to share knowledge among employees, companies have a higher chance of failure.
Innovation
In a society where disruptive products are constantly coming to market, it is essential that organisations continuously work to establish ways of working that will enable innovation to flourish at all levels within the company.
If you want to understand the Transformation pillar in detail I wrote a book called Organisational Mastery that you can find on Amazon.
Agile Transformation Roadmap
In order for you to implement an Agile Transformation we recommend 16 monthly projects as described below, this suggestion is for an organization of 150-200 people.
If you have a bigger organization we recommend you implement this Agile Transformation Roadmap every three months with new parts of the organization, always learning from previous implementations.
Summary
Hopefully, with this article, you got an idea of where to start and what should be included in your transformation.
In this article, you found a suggestion on where to start and what kind of activities you should take into consideration to run a successful Agile Transformation.
Did you like this article?
Are you looking to build an Agile Company? We can help you with this task in different ways. You can start by taking a look at our Agile Training and Agile Consulting pages.
One of our most popular services is our Agile Executive Workshop, a 2,5 days workshop to help leaders to identify what are the exact steps they need to take in order to build a great Agile Company.
In case you are looking to get external support with an external Scrum Master check out our Scrum Master Consulting program, a 6-months program to transform your Scrum Teams.
If you are sure that you want to do a full Agile Transformation, then our Enterprise Agility Program is the right approach for you, a complete package to transform your company into an Agile, Flexible, and Fast Digital Product company.